FRIENDS OF CLAINES CHuRCH
The Whinfield Photographs
A fascinating glimpse into the parish of Claines at the end of the 19th Century
Arthur Henry Whinfield (1863-1917) was the son of Edward Wray Whinfield, a "fundholder and landowner". The family moved to Severn Grange in Claines in the 1870's where Arthur grew up with his two older brothers.
Severn Grange was one of Claines' grand houses known for its wonderful gardens. The Whinfield family became very well known for their charitable work and were well known on the Worcestershire Music scene.
Arthur Henry Whinfield was Organist at Claines Church and took over Nicholson's Organ Works at Worcester. He married into the Curtler family of Bevere. He was a well known local photographer and recorded many aspects of the parish. Some of his photographs are shown here. (Most of these come from a collection saved by Mrs Dorothy Owen, widow of Revd David Owen, Vicar of Claines 1963 -1995)
Arthur Whinfield is buried in Claines Churchyard with his wife and parents and the current Lych gate was erected in his memory.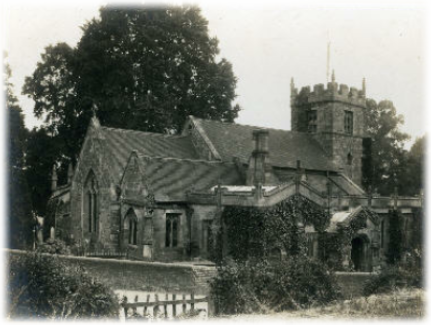 Claines Church from Claines Institute, undated.
(Note newly repaired Church wall. Nothing changes!)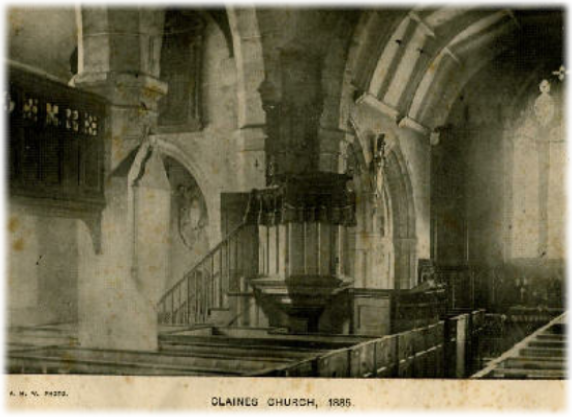 Claines Church 1885
(A rare photograph pre the 1886 Aston Webb alterations. Items to note: gallery on the left north wall; box pews all the way to the altar rail; old pulpit with stairs from north side; large memorial on pillar by gallery (where is this now?); decorated memorial through left arch, now removed to north wall of the nave; elaborate carved altar reredos; plain choir roof; absence of stained glass in main east window)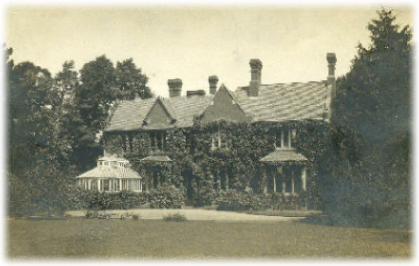 Claines Vicarage, undated
(Vicarage was built in 1861, note conservatory to left)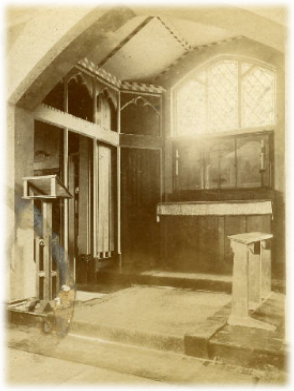 Chapel of St Edward and St Martin, Severn Grange, Worcester, 29th October 1914.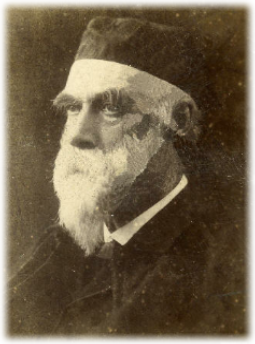 Mr Edward Wray Whinfield (1826-1902) Severn Grange, undated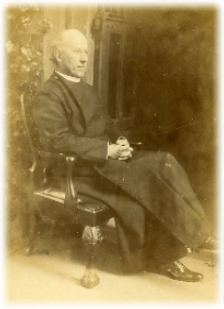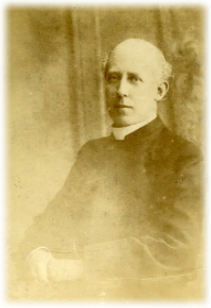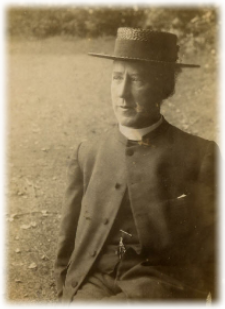 Reverend Oswald Alan Moore, Vicar of Claines 1909-1930.
See Moore feature for further details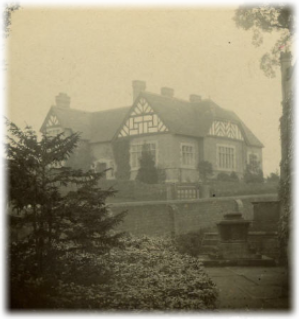 Claines Institute 16th November 1898
(note position of gate)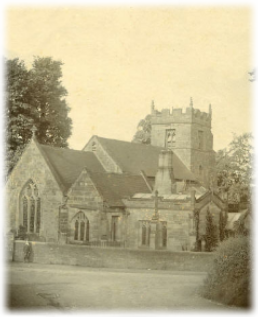 Claines Church 19th June 1899
(Note boy by wall, railings around graves, vestry chimeys and no church clock)
View from West End of Claines Church, undated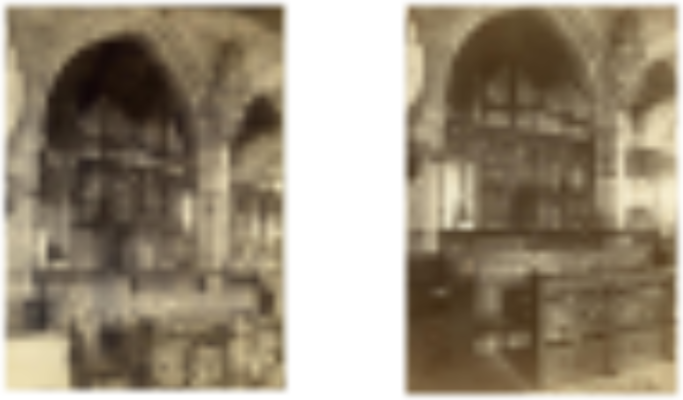 Claines Church, New Organ, manufactured by Nicholson.
(pipes installed in north wall of St Catherine Chapel, console at east end of chapel)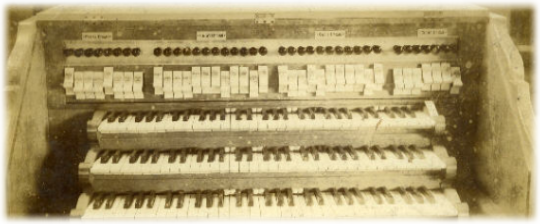 Claines Church Organ 1902
Claines Church Choirmen 11th April 1909
(Spencer Smith, John Smith, George Pritchard, Jim Drinkwater, Earnest Houghton, Bill Beard,
AH Whinfield (Organist), Bill Clarke)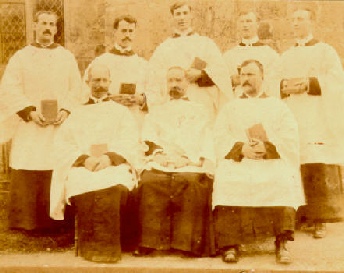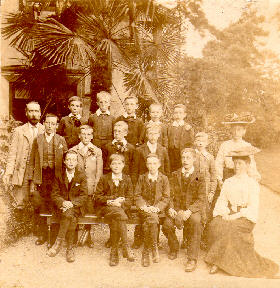 Claines Church, Old and Present Choirboys, at Severn Grange, 13th August 1904
(AH Whinfield back row far left, Harry Sansome aged 12, on his left)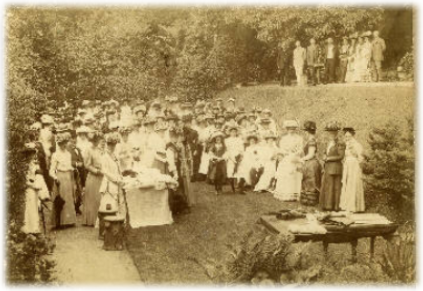 Claines Fete at Severn Grange, 1st July 1909
(Revd OA Moore (far left) in group top right)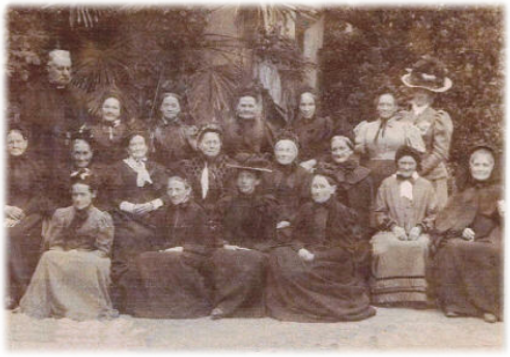 Widows of the Parish of Claines, at Severn Grange 15th June 1898
(Gentleman far left believed to be Martin Mence, Churchwarden and founder of the Mence charity for the poor)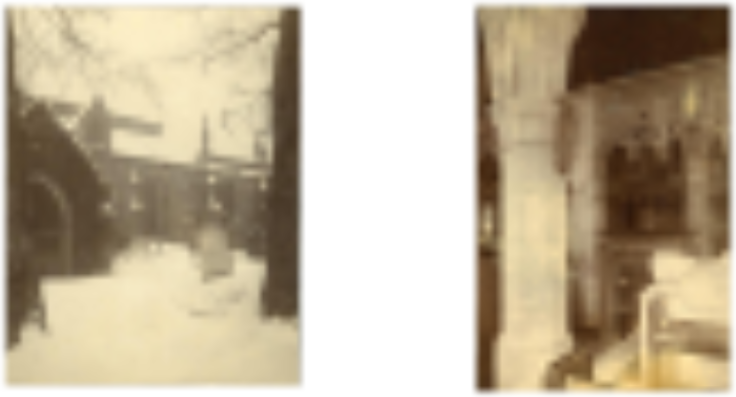 Claines Church South Porch
12th December 1899
(note numerous tombs with railings still in place; wooden porch doors)
Claines Church, Screens and stalls, 8th April 1901
(Note pews in Lady chapel in front of Porter memorial)
Private Joseph Ash, Crimean War veteran, born 1831, undated.
(From Claines Parish News, December 1895: "The War office have given a pension of ninepence a day to Private Joseph Ash. He served with his regiment, the 62nd, in the Crimea and went through that terrible winter in the trenches. At the attack upon the Redan, 250 men of the 62nd went into action and only 22 came back. Private Ash was one of them and he escaped without a scratch". He died at Claines on June 17th, 1914 aged 83 years)
Acknowledgement.
Claines Friends are gratefully indebted to Mrs Dorothy Owen for her contributions to this feature.
Mrs Owen collected invaluable information and saved numerous photographs from her time in Claines and has made these available to the parish for numerous displays.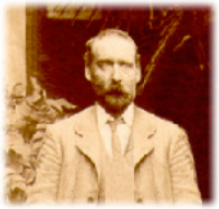 Arthur Henry Whinfield (1863-1917) of Severn Grange, Claines. Church Organist, owner of Nicolson's Organ works and amateur photographer