Current Messages..
HELLO FROM JOHN MOTHERSDALE
Just to say hello to everyone now at Claines. I attended Claines Church regularly from the early 1950's until 1972. My wife Veronica and I were married there by Clifford Carver in September 1962, I was confirmed there in 1951 by Bishop Cash, when Canon Clinch was the vicar. Our three children were all baptised there. We moved to West Yorkshire in 1972 and we are very settled here. I have been a Lay Reader at St Matthew's Church, Rastrick in Wakefield Diocese for nearly 30 years. We are a Local Ecumenical Partnership (LEP) with the Methodist church here and have been for many years. If anyone reading this remembers us we'd be delighted to hear from you. ( I was delighted to read the Claines entry on the ACNY website by the way.) John Mothersdale. My e-mail is jvrastrick@btinternet.com Sept 2011.
BLANQUETTES AVENUE
Hi, I have been researching my ancestry for a number of years and recently came into some information on my paternal side that took my family back to the late 1300's and my 16th great grandfather. His name was Jefferey Frere who's birth is recorded in Worcester about 1395. His son Thomas, born about 1427 was recorded in Claines, and his son Humphrey, born about 1450 was actually married to Agnes Blanquette of The Blanquettes. The information I have recently recieved confirms that the Frere's did indeed reside at The Blanquettes for several generations, with Richard Friar (notice the change of spelling) being my last confirmed generation there. The name Frere, changed to Friar, and then eventually to Fryer as it remains today, and it is thanks to a direct descendent of this family (Paul Fryer, my 7th cousin) that I have been able to add all of this history to my tree. And it is also thanks to me researching The Blanquettes that I came upon this website and learned more about the Estate and some of it's history. Thank you everyone involved. John Taylor Jones (See more on the Blanquettes below) 8th December 2010.
HELLO FRIENDS OF CLAINES CHURCH!
I have just discovered this wonderful site and read through all your messages and loved every minute of your recollections.
My name is Denise Higgins, I was born at Church Cottages in April of 1954. My father used to be the cowman at Church farm, working for the Phillips family, for over 30 years. I have many memories of life in Claines as it was then, looking back through the photos on this site has brought back very familiar faces. The Reverend Clifford Carver was the vicar who married my eldest sister, who incidentally used the Institute as her school, before Claines school. I also remember Mr Wedgewood, he was always a great hit with the pupils at Claines School.
I used to know all the Sansome family, in fact Stan Sansome was our milkman, I was at Claines school with Kenneth Rea, who's mum was a Sansome, as was the Milton's mother. Mr Prosser was the verger for many years. Mr Carver christened me at Claines church shortly after my birth. And of course the Mug house and the Trow family couldn't be forgotten.
We used to have a gymkhana once a year on the Raven meadow, every spring bank holiday Monday, and a fete in the Vicarage grounds every summer, to which my mother would always endeavour to enter me into the fancy dress parades, and I still have the photos to prove it. I do remember the Chesters too, was great to read your note Kathryn. I think I used to come down to your house on the odd occasion to play. I became very good friends with the Owen family and still bump into Katherine Owen from time to time. There have been many changes over the years in Claines, Church Cottages is now a single dwelling, and the vicarage has moved next door to where I used to live. I have had two of my sons baptised at Claines and now my father has been laid to rest there to, looking over the fields he used to tend to, either as a cowman or as a farmhand. It always has and will be a glorious place to cherish and remember.
I would love to hear from anyone who was around Claines as the same time as myself. Denise Higgins 5 August 2010
Kla How Ya (ELGAR AND MARL BANK)
Hello there, As a child I lived with my family Eric, Peggy and baby sister Anita and Grandma Scott at the back of Marl Bank from about 1955 until 1957. As you will know, Marl Bank's garden was subdivided in the 1930's. Mrs. Hood one of our neighbours remembers when the roofs were put on to the detached houses that were built on Elgar's garden. Our house was called Kla How Ya which means Red Indians We Welcome You ( pardon the non pc appelation ). We never knew why, but today I do know because I read your interesting article about The Reverend Edwin Arthur Watkins. I never knew that the area we lived in was in the parish of Claines (administrator comment = "used to be"). I also did not know that Marl Bank itself had once been called Red House. I guess we just think of Elgar and that is it. I would love to know why it was called Red House and when it was built.
I went to Worcester recently and noticed that the alleyway where I used to go to catch the bus to St. Barnabus School and which had allotments is no more having been built on. I did see terraced houses near it called Marl Bank Cottages. This was near Mr. Stallards old shop which again is no more. So I surmise that the alleyway was also part of Marl Bank's land prior to Elgar's death. This is Roger's Hill area.
I would love to know more about my Street, Landsdown Road and Marl Bank itself. We would see peacocks in the back of Marl Bank and also the summer house which is now at Broadheath and I have photos of this. A lovely thing is that there is an apple tree in the garden of Kla How Ya (we renamed our house Cotswold) which George Bernard Shaw used to sit under with Elgar. I actually saw GBS do this on a documentary about Sir Edward Elgar. I would love to know if it is still there. It should be a listed tree.
Many thanks. Cynthia Thomas nee Scott 2 July 2010
BLANQUETTS, CLIFFORD CARVER AND CLAINES RECOLLECTIONS.
Dear Friends of Claines, I was trying to research the history of Thomas & Sons who produced windmills and water pumps that were exported all over the world. Came across your interesting website.
I was born in 1932 in a bungalow along Bilford Rd. My parents moved to Beech Avenue around 1934 and our garden backed on to the Blanquetts house. It always seemed empty and friends and myself occasionally wandered into the house, we were rather wary I must say, but never saw anybody until sometime in the late 40's I think. I remember those 2 large black dogs who scared the living daylights out of me. Your correspondent who lived in Blanquetts Ave. named Armstrong was related to the Armstrong family I believe who lived in Beech Ave. and ran the St. Georges Laundry business.
The Beech Ave . area only had a few houses in those early days and had been a commercial nursery run I believe by the Palmer family who moved to the large area which lay to the north of the Metal Castings factory- maybe they are still there. The Beech Av. Area was owned by a builder Mr Pepper and all over the housefree areas there were cultivated blackberries, apple, pear, and plum trees. Probably most of the gardens in Beech Ave. still have those delights. One of my recollections of entering the Blanquetts house area without trepidation, was during the war when a Tiger Moth from Perdiswell came down in the grounds. The instructor and pupil were not seriously injured and the plane did not catch fire. I can't remember when the house was demolished but I think during the early 50's when I was doing my National Service.
Regarding the Rev. Carver. He was a great attraction and amassed a large congregation during the 1950's. He was I believe, instrumental in forming one of the first "Twinning" arrangements with a small German town called WIESLOCH near Heidelberg. He had taken a party of folk from Worcester over there during "Karnival" in early 1959.and was approached by an attractive young lady who was Karnival Queen to see if he could arrange for her to come over to England and stay with a family so she could improve her English. Rev. Carver was well connected in the County and arranged for her to stay with Sir Harold and Lady Glover who lived near Ombersley. She came over in the Spring of 1959. There was a German lady living in Beech Ave. called Else Buxton a delightful person who was known by a large circle of people in the north Worcester area. She met the young German lady at a garden party that June ( wonderful weather ) and invited her to tea to meet me. The outcome was that I married Ingrid Wagner in July 1961 and we had a wonderful life together until she died in 2003 from cancer. We had lived for the last 30 odd years in Pembrokeshire where I still live.
So, I have much to thank the Rev. Carver for. Often think of the Claines and Ombersley area and the pub in the churchyard. Great days. Michael Probert 21st June 2010
PUMPY THOMAS' ROLLS ROYCE!
Dear Claines Friends, First of all, I really enjoyed reading your fabulously researched and illustrated site. The reason I looked it up is that I am doing a little bit of research on a 1929 Rolls Royce registration UY 5602 that was originally bought by Ernest Percy Thomas of Thomas & Sons. It was very interesting to see that he donated bells and a clock to the church and to learn a little more about the business of Thomas & Sons. The Rolls Royce originally had a Hooper body although later it had a Jensen body put on it. Both chassis and later Jensen body still exist. I have a photo taken in the 1960s when it had the Jensen body on it. I am trying to find out more about the RR's early history, including how long Mr Thomas owned the Rolls. I understand that he died in 1957. If any members of the Thomas family are still known to the church or any other information on the Rolls Royce UY 5602 is known naturally I would fascinated to hear.
Best regards, David Davies 2 June 2010
SCHOOLS IN (OLD) CLAINES
I am researching my family tree and believe that my relatives the Pennethornes used to run a boarding school in Claines. Does anyone have any information on them at all? The name of the school, pictures, what Sarah and Elizabeth were like (if possible!!) any local history etc etc. I believe that Elizabeth died at the young age of around 30 years old and Sarah died at the age of around 90 years on the I.O.W unmarried. Any help would be gratefully received, Stephanie Hobbs 4th October 2009
SCHOOLS IN OLD CLAINES reply from Claines Friends Administrator
In the 1851 Census both Elizabeth (aged 40) and Sarah Pennethorne (aged 43) were running a school at Albany Terrace in Claines, Worcester. (Now in Barbourne.) There appeared to be another 3 teachers and 30 girls with 3 servants. It is actually listed as the Pennethorne School.
Do you know this House?
A Claines friend is researching the Amphlett family and believes this house has an association with them. It is possibly in the older Claines parish which stretched down well into the city. If anyone recognises it please let us know at Claines Friends. 5th September 2009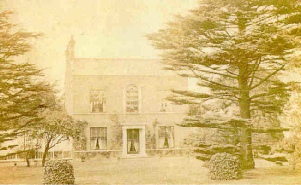 Hi, as a young boy I lived in Blanquettes Ave Worcester and I used play on the Blanquettes Estate. In 1972 I moved to Australia, but in those school days I spent on the estate I never knew the history of the Blanquettes Est, can anybody help me. Regards, Ron Harris , Australia 30th January 09
Blanquettes reply from Claines Friends Administrator
The area west of Bilford Road belonged to the Blanket family until the close of the Wars of the Roses 1453–1487, when for five generations it was in the possession of the Freres. In 1276-1282 Angela Blanket was mentioned in the "Lay taxation of moveables for Worcester". After the late Elizabethan period it passed through several hands. In 1791 it was described as "The Blankets (which took its name from the ancient occupier Agnes Blanket) is a strong brick-built mansion" It was improved in the 1820's and in 1879 was the residence of Josiah Stallard, Esq., D.L. The growth of the city to the north inevitably overwhelmed this suburban beauty spot. In the 19th century the name got "Frenchified" from Blankets to Blanquet. (Based on Old Worcester, Vol 2, H.W. Gwilliam) 1st Feb 09
Blanquetes Estate cont....
With reference to your message reply of Feb 1st regarding the above, I write to say that I, too, spent my childhood living in Blanquettes Avenue and have always been intrigued about the origin of the name as I could never quite see a connection between it and french cuisine! I lived there with my parents during the 1930s and 40s when the avenue was a cul-de-sac (we lived in the end house by the entrance to the driveway to the big house). At that time, the Blanquettes stood in its own quite extensive gardens beyond which was open country, with Barbourne Brook meandering through - a great source of interest to us kids! As I recall, the house itself was empty in the years leading up to WW2 (another source of interest) but I can remember it being used in the early forties as accommodation for the girls who, I think, worked at Kay's in Worcester. Later, it became the home of a Mr and Mrs Freeman who had two large black Labradors who used to frighten us out of our lives when we played under the three lime trees that stood just inside the drive entrance. A great place to grow up in! With best wishes, Jeff Adams 27th May 2009
Blanquetes Estate cont...
I too had been wondering how The Blanquettes got its name and in doing so, came across this website. I lived in Blanquettes Avenue from when I was born in 1941 until 1963 when I was married by Rev.Cliff Carver (who I remember very well) at Claines Church. I have loads of childhood memories of Blanquettes Avenue, especially "the 3 trees" where we used to play. Also apple scrumping in the Rimell's orchard! and many more. A jewish family by the name of Soames were the last to live in The Blanquettes House and after they went, the house fell into disrepair. Would be happy to share memories with anyone who remembers me. Lynette Coxon ( formerly Armstrong). 24th Feb 2010
Rainbow Hill
My grandparents Ann Ellizabeth Dawson and Alfred Hurdley were married at John The Baptist Church, Claines; they were both residing at Rainbow Hill according to their marriage certificate. Does anyone have any photographs or knowledge of this area as it was in the 1880s? I would presume that it would have been a "poor" area as that was how life was back then. I have seen the Church and the altar at which they would have made their vows and the path outside that they would have walked down after their marriage. I almost felt that I was there at the wedding and it brought tears to my eyes. I would be so very grateful of any other news of that time in history of Worcester. Ann Sherman, Dorset. 7th March 08
Jacob's Ladder I
Hello, My 2x Great Grand Parents lived at Jacob's Ladder between 1828 and 1864. Edward HODGES was an Agricultural laborer. three of his nine children were born and baptised in Claines. I would like to locate their house and if it is still standing obtain a photograph. From the 1841 census I know the enumerator went to the Rockery then 1 house Tappen Hill 3 more houses in the Rockery then the HODGES House and one other in Jacob's Ladder then Porter's Lock and Porter's Mill. From this information can anyone tell if they lived at the bottom, top or along the hill. Can the house be identified? Is it still standing? Hazel McMullin 5th Feb 08
Jacob's Ladder II
Hi Everyone, from a very snowy Canada. Still looking for info, Does anyone have any history on Jacobs Ladder,( Claines) How it got it's name etc,? what houses are on the hill now, When we were there 1950's we had no mod cons ------ What of the weir and river at "Porters Mill ? Please, any pics,
Thank you, Gillian Smith, Ontario Canada . 5th Feb 08
Jacob's Ladder III. From Claines Friends Administrator
There are now 5-6 houses at the top of Jacob's ladder, all on the left as you start from the top of the hill. All of these are from the 1940's onward. It is very possible that they replaced earlier cottages, does anyone know about these? If so, please let Claines Friends know. There are no houses lower on the left or lower down the hill at all until Porters Mill. Were there ever?. As to how it got its name see Genesis 28: 12 "Jacob dreamt that he saw a ladder which rested on the ground with its top reaching to heaven". Certainly feels like that if you walk or cycle all the way up it! By contrast a local name for the equally steep "Dark Lane" which joins the lane is "Devils Pit". 5th Feb 08
Jacob's Ladder IV.
A Powerpoint (3.3Mb) based journey down Jacob's Ladder to Porter's Mill can be downloaded here. We have found out there was a cottage at the bottom of the hill, which was demolished years ago. Claines Friends Administrator. 12th Feb 08.
Dear Claines Friends
My name is Kate Fearnall, and I believe my Father Henry Fearnhall, was born/ christened in Martin Hussingtree, near Fearnahll Heath. His Father was John Fearnhall & his, George Fearnhall from ?Maston/Marston? Worcestor. Does anyone have any information on my family?. Also, I wonder about the co-incidence of my name & the village name; did we take our name from the village, or was the village named after us?? any information would be very welcome. Kate Fearnall, New South Wales, Australia (See also the Family History page for similar entries...)
Canon Clinch
My great grandfather's cousin, the Rev Arthur Harold Gordon Clinch, was vicar of Claines from 1930 to the 1950s. I am trying to find out more about him for my family. Does anyone have any recollections of him that they would like to share, or perhaps a photograph of him? Craig Clinch. 7th September 07
HELLO
Further to Alan Clarks note (below)....I attended those Anorak Club outings at Lorton in the Lake District (my father Arthur Taylor was also a leader)...and the memories of those years is still with me. Not the ghost stories...Not the huge walking days we had...Not the trip to the pub to taste a cider...but the swims in the icy cold river (August)that chilled the bones ....brrrrrrrr
Memories eh! Alan Taylor. 30th July 07
Hello from Canada,
My family lived at Claines in the 1950's , on the side of a fairly steep lane (Jacobs Ladder) I started school there, at the bottom of another hill, then moved to the school at the top. My dad worked as a lorry driver at ( Porters Mill,) Would anyone have pictures or info on these areas please, I am trying to put a folder together of my life story , I need all the help I can get. Gillian Smith 13th July 07.
Memories of Canon Cifford Carver
My Uncle, Canon Clifford Carver was Vicar of Claines in the late fifties early sixties. My mother ,his sister June ,used to live at the Vicarage before she was married(in the church) and both my sister and I were christened there(all by my uncle). I can remember being passed through the kitchen window as very small child and a lovely staircase and sitting room. I was probably about two. I was wondering if anyone remembered my uncle( he died in April 1990 a week after marrying my husband and I).
Anna Hyndman (nee Owen) 12th Feb. 07. (Please Let Anna Know and copy Claines Friends in)
REPLY RE CLIFFORD CARVER:
Hello, Anna. I've just discovered the Claines website and saw your query about Mr Carver from a couple of years ago. I hope this reaches you! I was born in Claines in 1955 and was baptised, confirmed and married at the church. My father was a lay reader, Tom Chester, and I remember Mr Carver, though not very clearly because I was quite young at the time. I have one very clear memory of him though, which was at a church bazaar in the church hall, when he picked me up and showed me some soft toys on a stall, and said that he would buy me one. (I must have been about three at the time.) I chose a small felt penguin - and fifty years later I still have it! Kind regards, Kate Chester-Lamb
Hello everyone at St John the Baptist, Claines.
Many years ago a very good friend and mentor left St John the Baptist, Upperby Carlisle by the name of Peter John Wedgewood 'Wedgie' to his friends. He ran the Life Boys as it was then at Petteril Bank Harraby Carlisle and I was one of his boys. I had an accident one day when I was knocked down by not a car but a pedal cycle. Within hours 'Wedgie' was there with his motorcycle and sidecar to take me out for runs and generally be my guardian angel. Then he decided to move to St John the Baptist, Claines which devastated all those who had grown to admire, love and respect a man who could and would always follow God. It was a sad day for us and a celebration for you. But he never went away and forgot about us, he always had it in his heart to remember where we were and the guidance we still needed from him. He showed where he had left part of his heart when the Anorak Club was started and he continued his work with the young by taking them to Lorton Parish Hall a small village a short distance from Cockermouth and Bassenthwaite Lake. There I often stayed with them and my parents Harry and Kathleen Clark did the cooking and set up a lot of the kitchen before Wedgie and the club arrived from Claines. I remember lying in the hall at night and Mr Wedge would start telling Ghost Stories – enough to frighten all of us into screaming especially when the nearby Lorton Hall was haunted by the Grey Lady and when someone was knocking on the window from the outside. I remember such good times – digging the latrines, filling the palliasses with straw to sleep on and the mountaineering he used to take us on. How he is missed.
Yesterday, 5th February I had a meeting in Worcester and I was drawn to St John the Baptist, Claines. Why I do not know, I think it is because when Mr Wedge died I could not pay my respects to him especially someone who guided my life, my thoughts and my career so much. I met (sorry forgot his name) and he showed me 'Wedgie's Bench', the pew where he sat and the name on the scroll and I was drawn to remember the Reverend Peter John Wedgewood. I could see he was there so tall, so happy and so welcoming to all who was touched by his heart.
The names that I was reminded of Ken Lloyd, the Sansomes on the farm I visited – the memory of happy times.
When I told my parents where I had been last night, Harry is 81 and Kathleen 85, they said it is Peters Anniversary this week – I knew then why I was drawn to visit your Church and your memories of an Assistant Priest who touched everyone he came to meet and know.
Alan Clark, Rayleigh , Essex – formerly of Carlisle, Cumbria. 5th Feb 07
POW Camps
We have had a query for any recollections or details of Prisoner of War Camps that used to be around Claines. Do you know of any, or have any contacts that do? Perhaps you can recall some placements of the POW's locally. Please let Claines Friends know. Jan 07
Tinkers Cross.
Does anyone have a photograph of the thatched cottages that used to stand at Tinkers Cross, just past Claines School? George Drinkwater, whose family lived there for many years would love one. Contact Claines Friends.
Stephen Agnew, Vicar of Claines, Sept 06
'Go and make disciples of all nations' (Matt 28: 19).
This command has been at the forefront of many initiatives in the Church throughout the ages.
It is with that in mind that the latest initiative in Claines should be welcomed. The 'Friends of Claines' website is an attempt to reach out and make connections with people both in the locality and far away. It can be used as effectively by people who live in Australia as by people who live on Claines Lane. Such is the wonder of modern communication. Such a tool can be and should be used to help us share our faith and our concern for all people and help to bring them together. The possibilities of such a site are endless. Please us it and enjoy it.
You hum it, I'll sing it!
Vestry conversation between Choirmen Ernest Houghton and Maurice Sansome, early 1950's. "Ay Maurice, do you know this hymn tune?". "No- I don't". "Nor me, so I'll hum the tune and you sing the words".
Choristers Chronicles (Phil Sansome, Sydney, Australia, 29 Aug 06)
Back-to-back weddings at Claines on Saturdays were (and presumably still are) a challenge for Choirboys faced with the prospect of looking angelic and singing much the same stuff three or four times over with a quick break, football game or fight in the graveyard in-between.
Payment for singing used to be around 2 shillings, dispensed immediately after each ceremony, and it was pretty much spent with the same degree of immediacy on peanuts or Vimto from the Mug-House.
Thus replenished (and albeit somewhat dishevelled), by about the third wedding the Choir Boys stood equally divided, usually bored and facing each other across the aisle, hymn books cupped in hands, and they would 'load' the open hymn book with a line of peanuts, to be aimed and quietly flicked across the aisle as projectiles at the ear or head of the facing chorister (no-one was brave enough to have a go at the Vicar).
More often than not the ceremony would then pass with the delicate strains of "Love one another" interjected with an occasional metallic ping as a peanut bounced from a head or an organ pipe and landed back in the aisle.
Warfare of this nature was subtle enough to escape the scrutiny of the Vicar and the Choir men (usually asleep at this stage having used the Mug break to take replenishment of a different form), until one day, after a particularly energetic exchange, there were enough peanuts on the floor of the aisle to cause a new Bride to blush and bare more than she intended to at such an early stage in the nuptials, as she walked to the alter and slipped hassock over cassock on the way to be blessed.
Vestry Recollections...
Part of the training the choirboys receive is to help understand the major church festivals. During one training session the question was asked, "So Connor, what happened at Christmas?" A concerned Connor replied "I don't know, I wasn't here"!
The choir were prepared to sing the anthem "Lead me Lord" by Samuel Wesley. It starts with an alto solo, on this occasion to be sung by Mr Smith Worrall. Alongside the title and composer were written the usual instructions for musical pace. Unknowingly the vicar announced, "The choir will now sing the anthem "Lead me Lord- slowly without dragging". Poor Smith Worrall snorted his way through the first verse in hysterics!
Any Gardners in the Parish?
Hello, My name is John Gardner, I live in Norfolk. I am trying to trace ancestors whom I believe lived in Claines for part of the 1800's . John Gardner was born in 1810 in Lambeth Surrey, but obviously moved to Worcester because at the age of 19½ yrs he joined the Worcestershire regiment. He served over 20 yrs, leaving the army as Colour Sergeant I have him living at Claines on the 1871 Census, his family were wife Mary, sons John & Albert, and daughter Fanny. I know the son John married a Mary Ann in Birmingham, but wondered whether he returned to Claines? Contact John Gardner
See also the Family History page for similar entries...