FRIENDS OF CLAINES CHuRCH
Researched and written to remember the 100th anniversary of the start of the First World War this book details the lives and deaths of all those from Claines who fought then died in the Great War of 1914-18.
Published on 20th October, 2014, it appears exactly 100 years to the day of the first Claines soldier to lose his life.
It contains a fascinating insight into the individuals, their occupations and families and the impact that the call to arms had on the community in Claines, with over 54 pages and 70 original photographs, professionally printed by Cambrian Printers.
Extract from the Foreword by Reverend Jo Musson:
"The collection of biographies produced here, comes 100 years after the outbreak of that war. It seeks to illustrate how those international decisions would come to affect those who lived in one small community, the area known as Claines, in Worcestershire. In this book, Geoff Sansome sets out the stories of 49 local men who played their part in that war, many of whom are commemorated on the Cenotaph that stands in the churchyard of St John Baptist Church, Claines; the Claines School War Memorial and the memorial in the Church Institute.
Reading the book, it soon becomes clear what a levelling effect the Great War had. No family, however great or good was exempt. We hear about sons of gentry, sons of labourers, those who died in Europe and those who fell in Egypt. This small book has been written to help us honour and remember those men and to put flesh on those dry bones that in most cases lie under the grass of Flanders Fields in Belgium."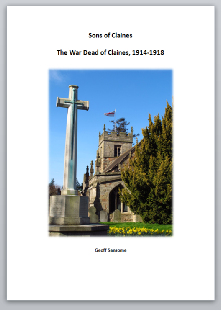 How to buy
Copies, £10.50, are available here plus £2.80 post and packaging. You can purchase via the PayPal link below or alternatively just send an email to admin@clainesfriends.org.uk or telephone 01905 754561 and we can arrange directly with you.
It was written by Geoff Sansome, with a foreword by our Vicar, Reverend Jo Musson.
All proceeds will go to the Claines British Legion to further their work in the parish and beyond, for those who have served and those who continue to serve their country.