FRIENDS OF CLAINES CHuRCH
Harry Sansome was born at Oak Farm in Claines in 1892, the youngest of six children. He attended Claines School until the age of fourteen and then went to the Victoria Institute in Worcester for further education.
Harry joined Claines Church choir at the age of ten and was a proud member until he had to go to fight in the First World War.
After his education Harry became apprenticed to Messrs Nicholson and Co, the Organ Builders, based at Palace Yard Worcester. The owner of Nicholson's at that time was A.H. Whinfield, of Severn Grange, neighbours and local benefactors to Claines Church.
His records state that he was 5 feet 6 inches tall with a chest of 36 inches and a range of chest expansion of 2 inches. As Trooper no 1843 he signed the solemn oath as below:
I Harry Sansome do make oath that I will be faithful and bear true allegiance to his Majesty the King Edward the Seventh, his heirs and successors and that I will as in duty bound, honestly and faithfully defend his majesty, his heirs and successors in person, crown and dignity against all enemies, according to the conditions of my service.
The Yeomanry was divided into squadrons. 'A' was at Kidderminster, 'B' in Birmingham, 'C' at Malvern and 'D' at Worcester. Harry Sansome was in 'D' squadron.
On August the 11th the regiment moved to Warwick by rail. 'D' was commanded by Captain J. C. Lyttelton. Once at Warwick the three squadrons joined with the 1st South Midland mounted Brigade and on the night of the 13th moved to Bury St. Edmunds. The squadrons were scattered to farm houses in the country and 'D' was at Thurston. Five days later their training began at Rushbrooke Hall. Whilst at Rushbrooke Hall Harry signed his engagement papers on August 22nd, 1914, they were countersigned by Lord Dudley himself , as shown below.
The farming and general world at that time was reliant on horses. From an early age Harry was a horseman. He was probably influenced by the adventures of the local Worcestershire Yeomanry Cavalry in the Boer War and appears dressed a young mounted soldier in a 1900 photograph shown opposite. His father had served with the Yeomanry Cavalry as a volunteer, which included riding from Claines to Witley Court to form a guard of honour for the Prince of Wales.
On the 30th January, 1911 at the age of 18 years and two months, Harry signed up for four years in the Worcestershire Yeomanry. Historically this had been a local militia regiment raised to fight the French invaders in the 1700's. It was still a volunteer regiment under the patronage of Lord Dudley of Witley Court. Members had to provide their own horses, attend an annual training camp, regular drill and cavalry sessions. No doubt it was glamorous for a young man to be in such a regiment. Harry was joined in the regiment with other Claines young men, amongst them being Harvey Barnes, Walter Garland and Percy Divers.
During 1912 a Yeomanry riding school was opened at Barbourne which is where Harry further developed his superb skills as a horseman.
The fun of summer camps and drills was replaced by the impending threat of the First World War. Great Britain declared war on Germany on August 4th 1914 and on the same day the Yeomanry was mobilised.
Harry attended the summer camps and was recorded present for the 1911 three week Camp at Elmley Castle; in 1912 at Eastnor Park and 1913 at Bulford on Salisbury Plain.
It was at this camp on 22nd May 1913, at Perham Down, that during the review of troops, the first ever appearance of the Royal Flying Corps took place, with nine machines flying past.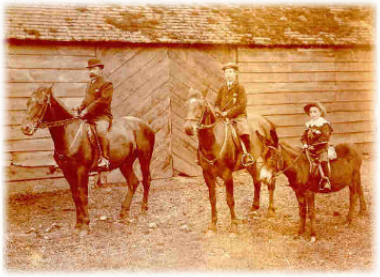 Harry Sansome (far right), with his brother Jack and father Isaac, at Oak Farm, Claines 1900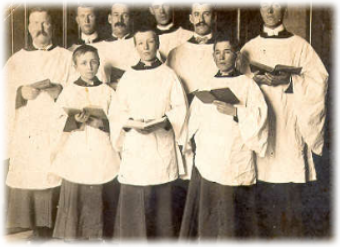 Harry, front row far right and the boys and men of Claines Choir, 1907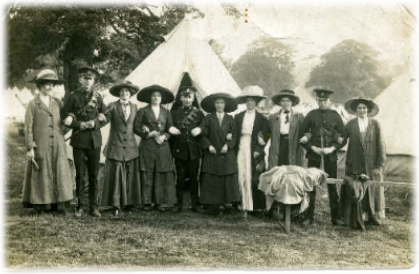 Worcestershire Yeomanry Camp, Eastnor Park, 1912. Harry Sansome, centre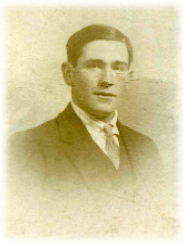 Twenty eight young men of Claines lost their lives in the First World War. This is the story of one who was lucky enough to return and live a full life.
In April news arrived that the regiment was likely to be ordered overseas. On April the 8th they travelled to Avonmouth and on the 9th reached Avonmouth Docks. From there they embarked for Egypt, as part of the Egyptian Expeditionary Force, in three ships; 'Wayfarer', 'Eloby' and 'Saturnia'. Harry was aboard the 'Saturnia'. All of the horses were transported to Egypt on the same boats as the men but many horses died on the way. Harry recalled the terrible conditions, heat and suffering of the horses on this journey, for years to come.
The regiment was about to enter the August offensive, to try and gain ground after the valiant Anzac battles in April and May which had resulted in stagnation.
Harry recalled that he and Trooper G.Bayliss from Fernhill Heath were the only people who, on approaching Suvla Bay, joined in reading the 23rd Psalm with the Padre. They received orders on the 20th to be ready at dusk and that the plan was to attack the Turkish position at Suvla Bay. At 2.30pm on the 21st of August the bombardment began. At 3.10 the regiment advanced up Chocolate Hill in columns at twenty yard intervals. They soon came under heavy artillery fire. They had no cover and ran through shrapnel until they reached a place of safety. Sixteen of the regiment didn't make it that far. At the time Sir Ian Hamilton said, 'The advance of those English yeoman's was a sight to send a thrill of pride through anyone with a drop of English blood running in their veins.' In this attack Harry was wounded by a piece of shrapnel in the calf muscle of his right leg. That was the beginning of the end of his war and his first and only battle.
Back at Gallipoli the Yeomanry had been involved in a period of trench warfare since Harry had left them. They had lost many men and up to twenty men were reporting sick each day owing to the conditions there. At the time of Harry's arrival they were in trenches that covered the ground they had attacked on August 21st, when Harry was wounded. The ground was still thick with the dead from that day, now two months old, and volunteers from the regiment crept out at night to retrieve what was left of them to give them some sort of burial and collect their identity discs. Towards the end of October rumours began to circulate that the regiment was to be withdrawn as it was in a severely depleted state.
Harry must have had some leave during this period, as there are photographs taken of him, as a Lance Corporal, back in Claines with his choir colleagues and another unknown Claines Yeomanry Trooper, outside the Institute.
The regiment's next move was to Norfolk for four months and then a march to King's Lynn, where on January the 15th there was a Zeppelin raid where bombs were dropped, but no one was killed. Whilst at King's Lynn on the 7th of April the corporals had a photograph taken and we believe that Harry is on this photo.
On April the 11th 'Wayfarer' was torpedoed by a German submarine and had to go to Queenstown in a sinking condition. 'Eloby' stopped in Malta at Valetta Grand Harbour and then carried on its way. Two days later 'Saturnia', with Harry on board, also reached Malta and rested for a while there. On April the 22nd 'Eloby' arrived at Alexandria and journeyed to Chatby Camp. The men aboard the 'Saturnia' joined them two days later. We can only begin to imagine the excitement amongst Harry and his colleagues on arriving in Egypt for the great adventure, a land only existing in the bible readings and stories of Moses that he had heard at Claines. Their possible destinations at this time included the Sahara, German East Afrcia, Romania or Hungary. One day after Harry arrived in Egypt the famous landings at Helles and Anzac took place, launching the beginning of the ill-fated Gallipoli campaign.
In Chatby Camp the regiment trained hard through the blistering heat until July the 1st when they travelled to Aboukir about twelve miles away. They trained there for two weeks before returning to Chatby Camp on July the 15th. The horrors of the Gallipoli campaign had become obvious to the regiment as they had been called on several times to help unload the dead and wounded Anzac troops from transport boats.
In 1915, August the 13th the Division was ordered on active service as infantry, even though they had always trained as cavalry. They marched back to Alexandria Docks the next day and boarded the 'H.M.T Ascania'. There destination was the, by now, infamous Gallipoli peninsula in the Dardennelles, to support the invasion of Turkey. After a sea journey of 650 miles, they reached Mudros harbour on the Greek Island of Lemnos on August 17th and that evening boarded a small Boer War cruiser, 'H.M.S Doris' for the last 50 miles sea journey. By the next day the regiment reached Suvla Bay, Gallipoli and went ashore.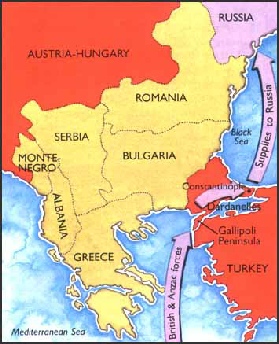 Before returning back to his regiment he was promoted acting Corporal on the 1st October, then being discharged fit for duty on the 5th. He returned across the sea to Gallipoli, arriving 21st October, two months after leaving the Peninsula. One can only imagine with what trepidation he returned, having seen action and his stay in the hospitals as a result of that.
The attack of the regiment became doomed to failure due to the Turkish machine guns and they withdrew after midnight. There were nine-thousand, five-hundred casualties in Gallipoli that day and forty-three in the Yeomanry. Harry remembered the shrapnel being removed without anaesthetic, whilst awaiting clearance to a casualty station.
The next day Harry was transferred through 14 Casualty Clearing Station back to Mudros, arriving in hospital on the 30th. With such a delay he was lucky to keep his leg. He remained in hospital until transferring to a convalescent unit at Casualty Clearing Station 24, on 21st September.
Harry and the regiment remained at Mudros for a month. They then returned to Egypt, arriving back in Alexandria on 30th November. There were 8 officers and 174 other ranks, which was approximately half of the numbers that left for Gallipoli four months earlier
Having signed up for four years duty, Harry's term was by now well expired. Whilst at Camp Mena in Alexandria he was given the chance to re-engage. He declined this on December 3rd 1915. By this time his elder brother, Jack, was also serving in France and Harry, having served his time, was required home on the farm. On 15th January 1916 Harry embarked for England on the Transport Ship, "Manitou", shown below.
On October the 31st the regiment embarked on a troop carrier, Ermine, and sailed to Mudros. On the same day Harry was confirmed in his rank as Corporal. That was the last the regiment saw of Gallipoli and it was entirely evacuated in January 1916, with 44,000 allied lives lost and 97,000 wounded. 10,000 of the lives were the Australian and New Zealand Armoured Corps, the ANZACS. Harry recalled in later years how much "the Anzacs had gone through it" at Gallipoli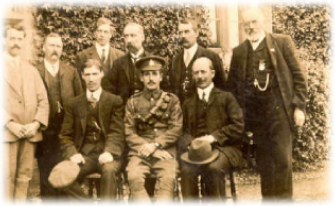 Men of Claines Choir, 1915. Lance Corporal Harry Sansome, centre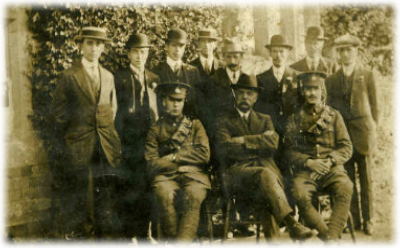 Men of Claines Working Mens Club, 1915. Harry far right, front row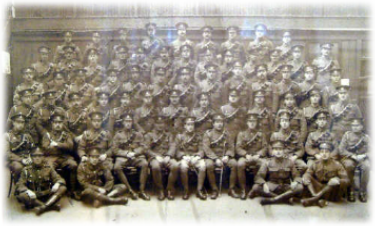 Corporals of the Worcestershire Yeomanry, April 1915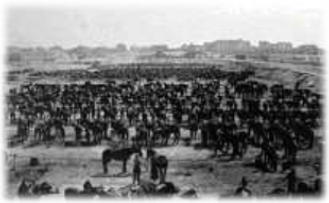 Chatby Camp, Alexandra, Egypt 1915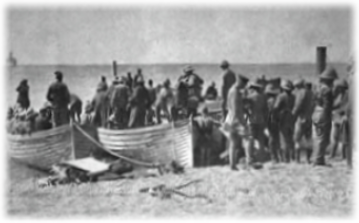 Evacuating the wounded from Gallipoli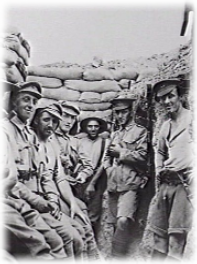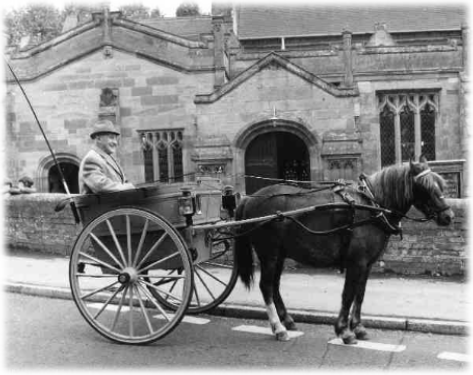 Harry Sansome, outside Claines Church in his 80th year, 1972
Sources:
The Yeomanry Cavalry of Worcestershire 1914-1922; Cobham
The Sansome Family of Claines; John Sansome Year 8 History Project
The regiment marched to Redgrave Park on August the 28th and then a distance of thirty-six miles to Norwich. The next day, a Sunday, they left Norwich for Newbury. The Worcester's were last to leave and didn't get away until early evening. This meant that they did not arrive at Newbury racecourse until early dawn on the 31st. Once in Newbury they remained there for eleven weeks undergoing intensive training all through September and October. It was during this time that Harry was promoted to Lance Corporal on 7th September.
Whilst in Newbury Harry visited some of his Sansome cousins. On September the 19th four-hundred horses escaped and raced around the track before stampeding off into the town. Later most of them were gathered up and returned. Some from distances of over thirty miles!
Up until October the 5th 'D' had been camping in tents on the racecourse. Then they moved into billets in Newbury. On November the 17th they travelled inland and on the 19th they were roughly grouped around Barningham Hall.
Harry arrived back in Worcester on February 14th 1916. He reported to No 16 Silver Street where he was discharged and arrived back at Oak Farm that same day. His records state that his Military Character was "Exemplary" and his Character Award was "Excellent."
He walked home from the station and arrived to see his father cutting the hedges at Oak Farm.
He had been away from home over a year, seen a large part of the world, action, death and destruction and been lucky enough to survive.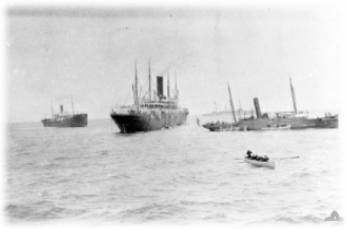 British ship HMT Manitou, 17 April 1915. collecting men and material from the water after having been stopped by a Turkish Navy destroyer during the ship's voyage from Alexandria to Lemnos. (Credit Professor J.R. Kay-Mouat)
Harry became a volunteer with the special constabulary in Worcester. He was present for the return of his regiment to Worcester, at the end of the war, when only two officers, sixteen men and twenty-one horses remained from the many that had set out on August 11th 1914 for Warwick. They had gone on to win battle honours in Palestine, being engaged in the last ever British Cavalry charge at Huj.
Of his Claines colleagues, Walter Garland and Harvey Barnes were both killed on Easter Sunday, April 23rd 1916 at the battle of Qatia. Percy Divers died as a Turkish Prisoner of War in 1917.
Harry went on to live a long and healthy life, marrying, producing six children and making a full contribution to the life of Claines, its farming, music, church and social life. Having seen the first fly past of the Royal Flying Corps he lived to see the Apollo moon landings and the first flight of Concorde, ending his days peacefully with his family at Oak Farm, the place of his birth, in 1982 aged eighty nine.



Geoff Sansome
Claines
2007