FRIENDS OF CLAINES CHuRCH
The Colley Family
"Wire walking and Victorian Tragedy"
Edward Colley was born in Claines and christened in Claines Church in 1821. His parents, James Colley and Mary Sangalls had married in Chaddesley Corbet in 1810 and moved to Claines, living in Tinkers Cross cottages for over 20 years.
Edward lived in Fernhill Heath, working as an Agricultural Labourer, and married Sarah Hodges, from Whitbourne , Hereford in 1842. Edward and Sarah produced nine children between 1846 and 1860, seven boys and two girls. Edward is listed in the 1879 Directory as being a "Fruit Dealer, Fearnall Heath".
John was their second born and went on to live a colourful life described below, Francis was the 8th child and 7th son. A younger sister, Sarah Jane died at the age of 14 in 1873 and was buried in Claines.
Born in 1857, Francis, or Frank, was involved with the Aston Webb restoration of Claines Church that finished in 1886. He received a reference from the then Vicar of Claines, Alfred Porter:
Francis had married Nellie. Their first child Mabel was born in 1885 but tragically died in 1886. She was buried in the same grave as her Aunt Sarah Jane at Claines.
Meanwhile, elder brother John had worked as a "Gentlemans Servant" in Claines, whilst living with his family in 1861. He went onto marry Mary Louisa from Bristol. They moved to London and between 1870-1876 produced four children; Honora Louisa Charlotte Georgina, Elizabeth Adele, Albert Henry and Iris Daisy. In 1871 John and Mary were living at the Marylebone home of the Frenchman Francoise Jean Blondin, where John worked as a servant.
"Francis Colley and his wife have been resident at Fernhill Heath in this parish for about eighteen months. During that time I have had constant opportunities of forming an estimate of his character and conduct, and it gives me great pleasure to testify to his industry, sobriety and honesty. He was employed by Mr Collins the contractor during the restoration of our church, which lasted about ten months and I had almost daily opportunities of seeing him about his work. We found him invariably obliging and hard working."
Reverend Alfred Porter, Vicar of Claines 11th April 1887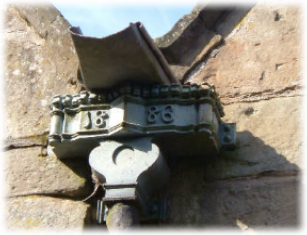 A drain hopper recalls the date of the church restoration
However things did not go well for John and Mary. They split up in 1881. John was charged with desertion and sentenced to three months hard labour. All four of the children ended up in Wandsworth workhouse. Mary "married" a London tram driver and produced three more daughters, the last one sadly costing her life.
John then took up with a Worcester girl by the name of Rosa Ann Norcott and they produced Jane Rose, Maude Eva, Reuben John and Henry Edward between 1884 and 1887.
John's daughter Elizabeth Adele was also an entertainer, apparently with a trick bicycle act that involved riding the bike, whilst taking it to bits, ending up rolling round in the wheel!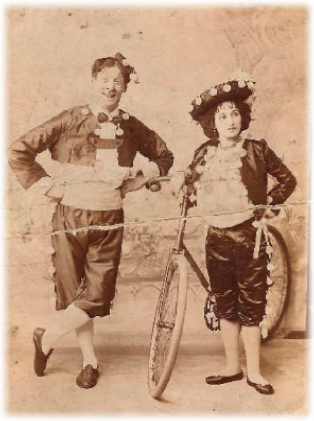 Elizabeth Adele, her husband Robert Padley and their trick bicycle
Credit: Iris & Kitty Adley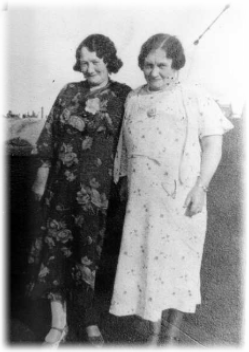 John Colley's daughters, Iris Daisy and Charlotte, later in life
Credit: Fran Crisp & Iris Petrie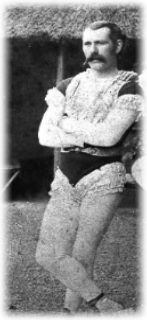 John Colley 1845-1894
Credit: Pam Bairstow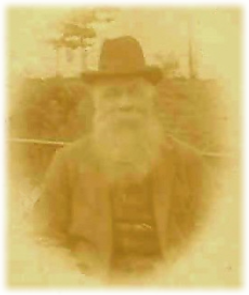 Edward Colley 1821-1889
Credit: Florence Bowness
With thanks for the details and photographs provided by
Frances Crisp,
Great-granddaughter of John Colley, and
Wendy Davies
his great-great-granddaughter,
and for other Colley family members for use of their photographs, as credited, many of whom are shown below.
Blondin had achieved fame and fortune as an acrobat and tight rope walker. He was the first person to cross the Niagara Falls on a tight rope, which he did in 1859. He went on to do this 17 times, sometimes trundling a wheelbarrow, another time carrying his manager on his back, and another time with a sack over his head. He also regularly performed at Crystal Palace, London.
John Colley himself had taken up wire walking. His performances included Halifax in 1880 and Leeds 1881. In March 1881 he was staying in a guesthouse in Glasgow with other performers with whom he appeared at Brown's Theatre. He moved to Greenock in April of that year and then onto Belfast, also performing in Belgium that year. He, like his master, also appeared at Crystal Palace. As "Colleeen" he regularly performed with Frank Angelle, a trapeze artist, and a "Miss Oza".
Family legends have linked John Colley with Niagara Falls crossings, some allegedly on Blondins back and others as the man in the wheelbarrow, but none of these can be substantiated.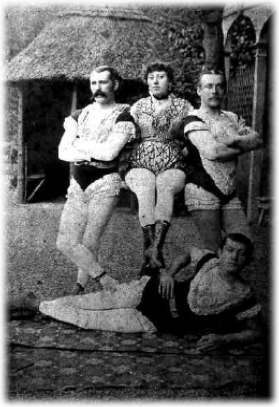 John Colley (left), Rosa Norcott, Frank Angelle, and possibly John's eldest son, Albert (lying)
Credit: Pam Bairstow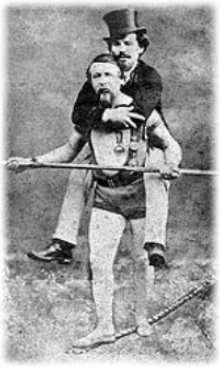 Wendy and Frances are very keen to make contact with other descendants of Edward and Sarah Colley, as shown below in green:
George Colley (b 1843 / chr. 15 Oct 1843, Claines) married (apparently a second wife, as George was a widower at their marriage) Sarah Watkins (6 children)
John Colley (b. 1845 / chr. 1845, Hindlip / d. 13 May 1894, Powick / bur. 19 May 1894, Claines ( with father Edward)) married Mary Louisa Nicholls (4 children); partnered Rose Ann Norcott (4 children)
Charles Colley (1847-1847 - Infant death / bur. 30 Jun 1847, Hindlip)
Henry William Colley (b. 1848 / chr. 21 May 1848, Claines) married Mary Allard (3 known children)
Arthur Colley (1851-1874, died at sea en-route to New Zealand)
Thomas Colley (b. c1853) - nothing further known
Mary (or Catherine Mary) Colley (1856-1880 - buried Claines
Francis (Frank) Colley (1857-1926) married Nelly Jane Hooper (4 children - Mabel (Nov 1885-Jan 1886 - buried Claines)
Sarah Jane Colley (b. 1860 / chr. 9 Nov 1860, Claines / d. 29 Dec 1873, Claines / bur. 4 Jan 1874, Claines)
CONTACT WJCDavies@tinyonline.co.uk
Johns life ended sorrowfully. He entered Worcester County Pauper and Lunatic Asylum, at Powick just outside Worcester, were he died at the age of 49 in 1894 suffering from "Paralysis and General Mania". He was buried at Claines Church sharing the grave with his father Edward, who had died in 1889, with four other members of his family buried in nearby graves.
A short, adventurous but somewhat tragic life, starting and finishing in Claines.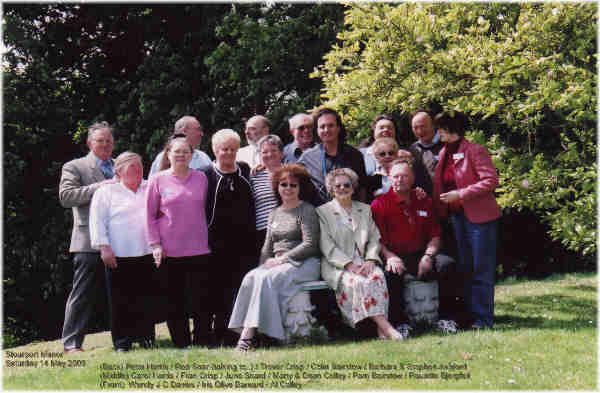 Colley family descendants at a "re-union", 2005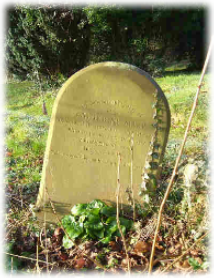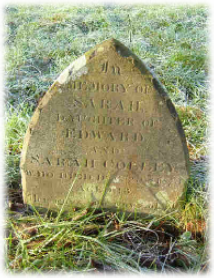 Two of the Colley family graves at Claines today