FRIENDS OF CLAINES CHuRCH
"Our poor are provided for, the highways repaired, riot we know none, gamesters we know none, drunkards and drunkenness none"
The Constable of Claines, 1638, having closed six filthy public houses in Claines in an attempt to quell the plague. The Mug House survives!
The Mug House is an important part of our Claines community. It enjoys a special relationship with it's closest neighbour, the Church and is supposedly only one of the two English pubs to reside in a churchyard! They share congregations regularly!
The Mug House is popular for weddings, baptism and funeral parties as well as day to day socialising.
It serves a superb range of traditional and Banks's Ales and weekday lunches.
It maintains its traditional appeal and has resisted the pull of the 21st Century in favour of good honest fun and companionship.
Originally the Church Ale House, the Mug has many secrets to tell. In 1947 renovations uncovered the silver head of a medieval bishops crook (crosier), now used by The Claines Boy Bishop. Was this secreted away during the scourges of the reformation, or by a less than honest landlord?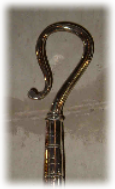 Supposedly haunted, the Mug sits among the final resting places of over 15,000 people, buried at Claines over the centuries.
Contact Judy or Russell at The Mug House for any enquiries on 01905 456649 or email via their website at: