FRIENDS OF CLAINES CHuRCH
Bevere Manor and the Camp Ferry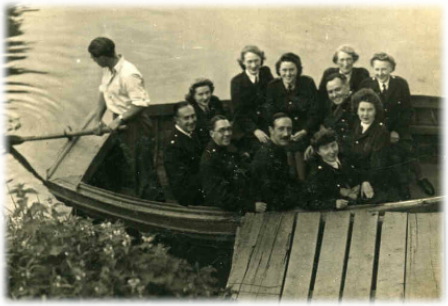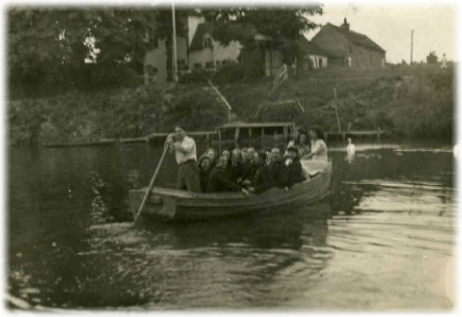 A recent discovery of two postcards takes us back to May 1945 and a time when Bevere Manor was home for the National Fire Service. They also recall when Claines was connected to the neighbouring parish of Grimley by something more than a strip of water, to the delight of drinkers of that time!
The photographs are both dated May 17th 1945, just nine days after VE day, possibly accounting for the happy faces. One shows a group of uniformed people in a ferry and the second shows the group mid way across the River Severn with the Camp Inn in the background.
The Camp Ferry was well known at that time and was one of several ferries which crossed the river over the centuries. These included the Cathedral, Kepax, Camp and Hawford ferries.
The Ferryman is believed to be Mr Wainwright from the Camp Inn. He was more than happy for the last passengers from Claines to take themselves home on the ferry, tie it up and he would then swim across in the morning to collect it. (1)
The uniformed ferry passengers are most likely to be from Bevere Manor, a very short walk away.
At this time Bevere Manor was the home of the No 23 Fire Force.
The Camp Inn is Georgian and was always used by watermen, it had stables for horses and donkeys (the usual charge was 3d. per night for stable and straw). When the Severn trows were hauled by groups of 8 to 20 men harnessed with ropes round their chests, the innkeeper supplied their bait'. Their wages included bread, cheese and pickle costing 2d. a day with cheap cider or beer, at five pints a shilling, and one and a half ounces of tobacco. (3)
Just up river of Camp is the last corner of Claines at Hawford (Higher Ford). This was once home to another ferry, "The Hawford Ferry". There was always a ford and ferry at some point in this area, salt was being transported from Droitwich along the old Saltway via Hadley, Chatley and then to Hawford. Around 1830 there was a river crossing at Hawford, but it was known as a roving ferry' which took horses and vehicles across the river, called thus because the tow path changed from the Camp side on the west to the Ombersley side on the east; when Bevere Weir was constructed the situation changed. There is a record of the area of the lower crossing being known as Lawford, always subject to flooding. (3)
As a result of the recent Northwick Heritage Trail project (see Links) there has been some renewed interest in the Camp Ferry and a Mr Swanson, writing in the Worcester Evening News, has tried to raise some interest and persuade someone to start the ferry again!
Geoff Sansome, Claines, August 2010



References:
1) Harry Sansome, personal comms.
2) The Impact of War on Northwick Manor (Mick Wilkes) http://www.wyac.co.uk/northwick
3) Rosalind Parish, Worcester News, December 2006
Prior to World War 2, fire services had been organised on a local basis. The onset of bombing raids in the previous war had highlighted the need for a more coordinated service, but it was the threat of another war, when air raids were expected to be more widespread and devastating in their effect, that led to the Fire Brigades Act in 1938, and would actually result in an improved service. This legislation made District Councils responsible for fire services and formalised the creation of the Auxiliary Fire Service (AFS). The AFS would be staffed with volunteers but would supplement the full-time Fire Brigades. During some of the larger bombing raids by the Luftwaffe on British cities, the coordination between the volunteers and the full time fire service did not always work well and so in 1941, the two services were combined to become the National Fire Service (NFS). Consequently, 33 NFS Areas were created throughout Britain, No 23 Area incorporating the counties of Herefordshire, Worcestershire and Warwickshire. The headquarters for No 23 Area was established in Bevere Manor and it was from here that the response to major air raids would be coordinated. Bevere Manor was occupied by No 23 Area Headquarters until the NFS was disbanded in 1948, and the responsibility for providing fire services devolved to
County Councils and County Boroughs. (2)